VUE I
2 People sit in transparent Kayak.
[full_width]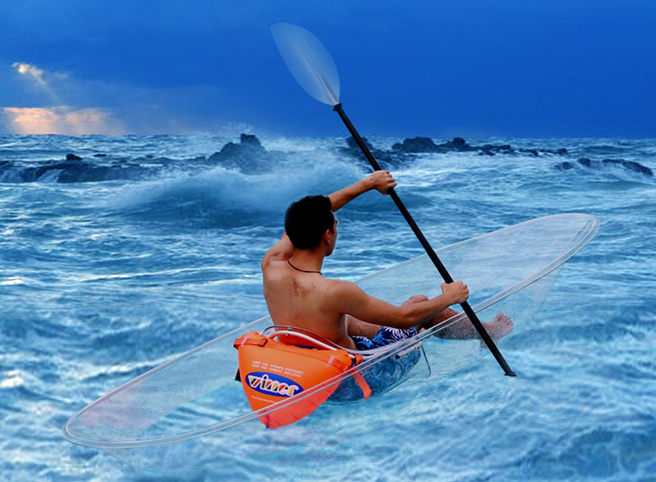 Years of design and testing brought the first ever truly transparent kayak to life. The aptly named Vue is a classic piece of engineering. It threads the thin line between paddling and exploring the sea from above. As you can imagine the high light of this kayak is the visibility to the amazing world beneath the water line. The design is not for speed or manoeuvrability but for a comfortable looking into the world of Jacque Cousteau. Imagine a front row cinema seat in your own theatre, where you become your very own director. Follow the fish![/full_width]
[one_half]
L: 3.25mtrs; W:0.8mtrs; H:0.3mtrs
G.W:20kgs
Max weight capacity: 200kgs
Material: polycarbonate fibre
Colours: Red, Yellow, Green, Blue, Black, White, Purple. Multiple and mixed available.
Standard Equipment:
2 transparent seats
2 transparent paddles
1 Air Bag
[/one_half][one_half_last]
[/one_half_last]